This post contains affiliate links. As an Amazon Associate, I earn from qualifying purchases. Should you click an affiliate link and make a purchase, I may make a small commission at no extra cost to you. You can read more about it here.
Can Ice Cream be Healthy?
I scream, you scream … well, you get it!
Ice cream does make me scream, but that's because it gives me insane headaches nowadays! Not much fun eating something that ends up making you feel terrible afterwards. We've found many of the processed foods we used to eat have some negative effect on us since we've been eating clean for a few years. Which just goes to show that your body knows what it needs and what it doesn't need. And it doesn't need the preservatives, additives and chemicals. It'll find ways to tell you, too!
My son has never been able to have real ice cream because of his dairy allergy. So in order for both of us to enjoy this classic treat, we turned to nice-cream. We've found a few healthy ice cream recipes that we like, and continue to experiment with others as well.
I'm not one that likes to be a stickler for measurements in the kitchen. Sometimes that's good, sometimes that's bad, but for nice-cream, it's totally okay! Nice-cream really is kind of like smoothies … just frozen. I don't ever measure out my smoothies, either. I just eyeball it. So don't be afraid of experimenting with ingredients to find what works for you.
The Base for your Healthy Ice Cream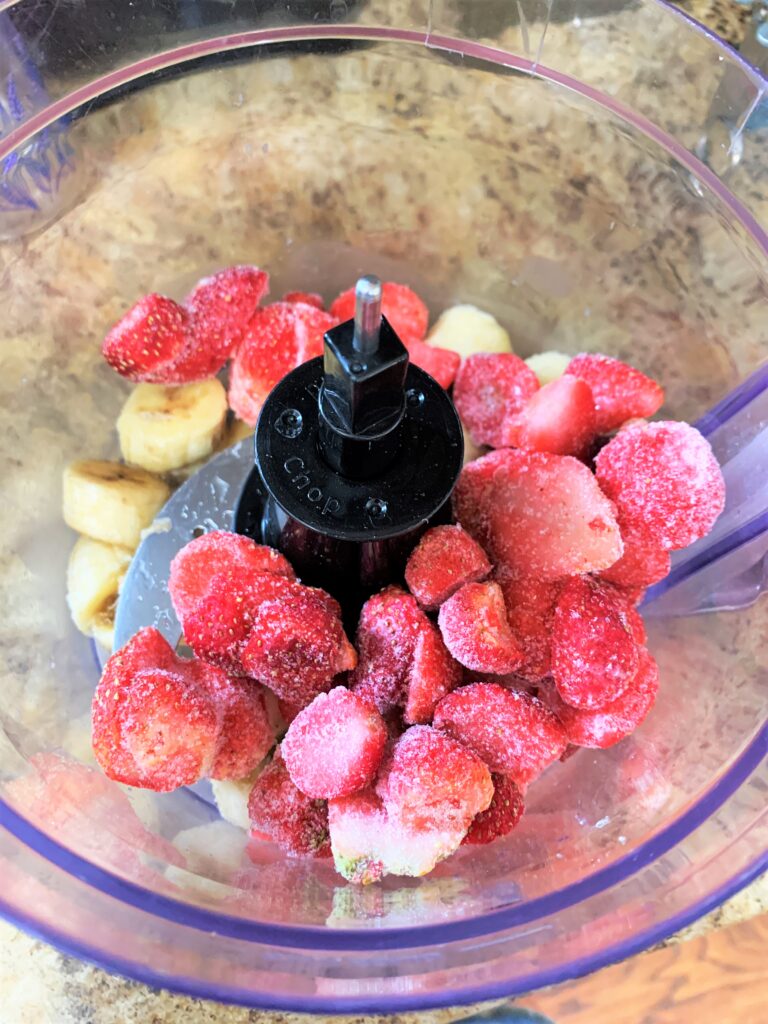 Most recipes for nice-cream have a main ingredient of bananas. They also call for sliced bananas to be placed on a cookie tray and frozen that way before using or storing. I rarely have the time, freezer space, or the forethought for that kind of fancy mess. When I have bananas that start turning brown (which is actually rare in our house), I slice them up and place at least two, sometimes four, altogether in a baggie and freeze. No, they don't fall out nicely in single little slices. They're clumped together and stuck to one another. But when I want to use them, I just pull them out and let them thaw a bit. If I have to warm them up for a few seconds in the microwave then I do. (Someday we may be able to do without our microwave, but I'm just not there yet!)
The browner your bananas, the sweeter tasting your ice cream will be. This is perfect, since most of the time you won't have to add any additional sweeteners.
There's no fancy equipment you have to have for making nice-cream. If all you have is a blender then use that! But I love my food processor and use it for all sorts of things in my kitchen now. I literally remember saying to my mom one time when she asked if I wanted one, "What would I do with it?" Oh, how little did I know back then.
Nice-cream recipes you should try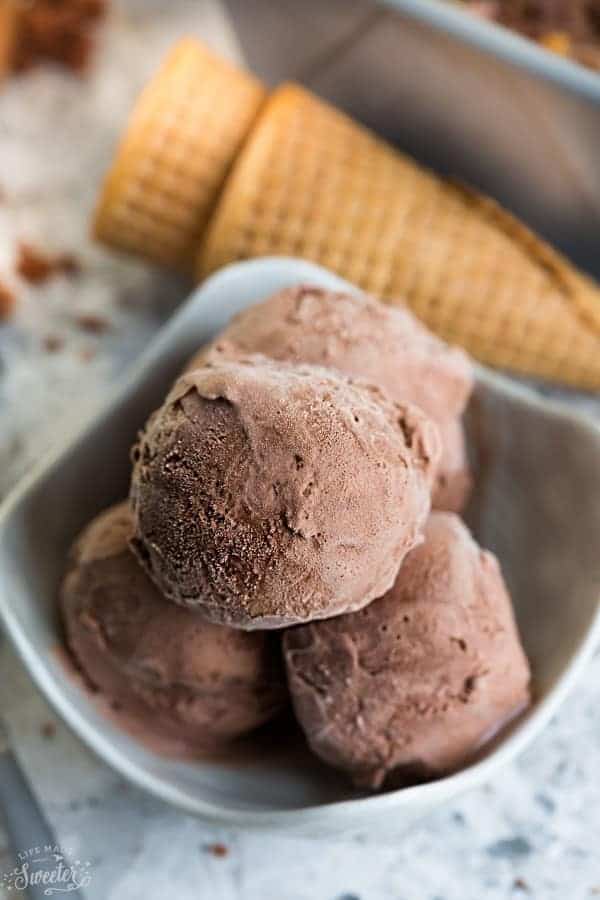 Here's a strawberry flavor we found from Recipes Diaries that we all love. To keep it dairy free, I've used both the almond milk that it suggests as well as canned coconut milk. Both are fantastic. If you're not dairy free, you can use your regular milk. We like adding in a few of these dairy free chocolate chips because … well, chocolate makes everything better! I like a few strawberry slices added to it as well. 
Another flavor we make is a peanut butter banana blend from Two Peas and Their Pod. This one is yummy with a few banana chunks sliced up for toppings or chocolate chips sprinkled on top. I've also used a homemade caramel sauce as a topping and it's a heavenly combination.
Here's a chocolate banana version from Life Made Sweeter and is similar to the one above. Again, toppings can be bananas, chocolate chips, even some fresh strawberries, or eat it as is!
This coffee ice cream from My Crazy Good Life is perfect for the coffee loving adults in the family. I've not tried it yet, but I'm excited to!
Beaming Baker has a yummy mango ice cream for those that like a more tropical flavor. 
Looking for just a classic vanilla? Blend together 3 frozen bananas, 1/4 cup of your preferred milk, and 1 tsp of vanilla bean. Freeze for about one hour. Top with any of the toppings mentioned above!
Give these recipes a try or do your own variation of them and let me know in the comments below!
---